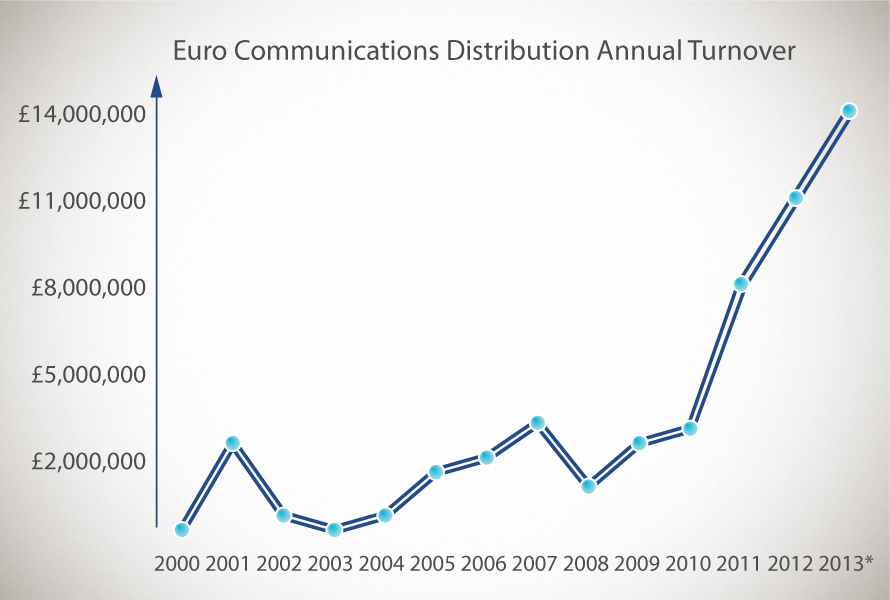 1999 - Euro Communications Distribution Limited is Incorporated
ECD Ltd was incorporated by Mr Steven Athwal, a serial entrepreneur with varied business interests who acquired a small warehousing and workshop facility and employed five members of staff. Steven had been in the industry since the 1980's and in 1995, he sold his small chain of independent retail mobile phone shops to concentrate fully on the wholesale B2B sector of the market.

The business aim at that time was to take advantage of the pricing differences between countries on certain products. ECD started as a trading company buying stock mainly from Spain and selling it onto the larger UK dealers. These European phones needed reconfiguration to the software to enable them to be used in the UK and Steven's previous experience and technical knowledge proved to be invaluable.


2000 - ECD Launches Service Centre
ECD continued to receive enquiries for reconfiguration services and repairs from the small portfolio of contacts that Steven had built up over the years. These enquires snowballed and additional staff was taken on to ease the ever increasing work load. The decision was then taken to offer our services to the local population and in 2000 the doors were opened to our then small 2000 sq ft workshop. There were no other repair companies of this type in the local area and the decision to open to the public became an overnight success.


2001 - ECD becomes an Authorised Nokia Service Point
ECD carried out repair services for consumers, local businesses and a growing database of industry contacts including many blue chip companies. ECD's reputation spread and in 2001 we were approached by Nokia to support their customers repair and service requirements. ECD were then duly appointed as a Level One Nokia service centre.


2002 - Relationships formed with Major Network operators - ECD upgraded to Level 2 repair status
During 2002 ECD successfully managed to be accepted by many of Europe's major mobile phone networks and operators as a reliable and trustworthy buyer of excess inventory. Steven and his team built up a worldwide network of buyers who would purchase this unwanted inventory.

The repair side of the business was carrying out ever more complex repairs and as such ECD was upgraded by Nokia to a Level 2 service centre.


2003 - Recycling Services Introduced
ECD's customers and suppliers created huge amounts of waste and many were looking for environmentally friendly and ethical disposal channels. Many companies offered these services at the time but ECD was able to reuse and process the waste in such a way that created an income source for the providers and thereby effectively transforming waste disposal expenses into new revenue streams.


2004 - Refurbishment Service introduced
Much of the waste ECD processed was perfectly operational but it was not to a cosmetic standard acceptable to consumers. To increase revenue for both ECD and the suppliers of the waste, processes and procedures were introduced to refurbish this waste (mainly handsets) into a cosmetic standard desirable by consumers.


2005 - New Warehousing Space Acquired
ECD had outgrown their premises and additional warehousing and workshop space was acquired to cope with the steady growth. Warehousing, offices and the workshop were split and located in different locations.


2006 - ECD becomes an Authorised Samsung Service Point
ECD becomes an Auhtorised Level 2 Samsung Service point.


2007 - ECD wins Tech Track Award
ECD enters the prestigious Sunday Times Tech Track 100 League, which ranks Britain's top 100 private tech (TMT) companies with the fastest-growing sales over the last three years.


2009 - ECD Moves to New Premises and becomes an Apple Authorised Service Provider.
ECD moved to new purpose built premises, bringing all of their operations onto one central site, located on a one acre site with over 30,000 sq ft of warehousing space, over 5000 sqft of offices and almost 6500 sq ft of workshop space.

Numerous consumer repair websites launched to offer our repair services on a national level.

Registration with the Environmental Agency takes place, authorising ECD to process and transport WEEE waste.

Appointed As An Apple Service Point to Repair and Service Apple products.


2010 - Expanded into Alternative Products
In 2010 due to requests from our partners the decision was taken to offer our services to other consumer electronic products, such as computers, servers, tablet PCs, gaming consoles and much more.


2011 - New website launched - ISO procedures introduced - Approved Authorised Treatment Facility.
ECD had always kept a low profile and conducted business with an established customer base. With the introduction of new products and operating in an increasingly more competitive marketplace a corporate website was launched to showcase the services and products offered.

ISO procedures were introduced to ensure our standards of service were maintained regardless of the volumes of products bring processed. ECD's environmental accreditation is being upgraded to an Approved Authorised Treatment Facility specialising in WEEE waste


2012 - Insurance work increases.
The number of insurance companies for whom we do repair, refurbishment and fulfilment work dramatically increased. We are proud that in 2012 we saw 8 new major insurance companies utilising our services. To cope with this demand, we increased staff to a head count of 58 and our workshop size was doubled. We also constructed a purpose built clean room. We now repair on average 5000 units per month.

Sales team on the international trading side of the business doubled in size and 5 new online sites were opened.