Over recent years numerous regulations and directives have been enforced by our government and the European Union. Their aim is to protect the environment and make it a safer place for all. These regulations and directives include;
Hazardous Waste Regulations 2005
The European Waste Electrical and Electronic Equipment (WEEE) directive
Battery Directive
Environmental Protection Act 1990
The above regulations have a direct impact on the way your company may dispose of used electronic equipment. This in turn directly affects your corporate responsibility and activities.
ECD is registered with the Environmental Agency as carriers and processors of electronic waste and operate to ISO 9000:2000 & ISO 14001 Standards. It is our aim to offer legal waste disposal services for organisations to manage the ever increasing levels of WEEE produced. Having over a decade of experience in the technology and recycling arena we understand and appreciate the problems facing organisations in meeting the strict waste management requirements that have been introduced.
At ECD we are here to assist you in adhering to all waste regulations that are applicable to the job at hand along with ensuring all documentation is correct.
We offer all the requisite documentation to all our customers to ensure full compliance with current regulations and together with full traceability you can be rest assured that your electronic waste is being processed in accordance with all legislative requirements.
We operate a pan European service and run our own dedicated fleet of secure satellite tracked vehicles - all of which are covered by our waste carriers licence - which combined with our secure processing facilities and ISO standards allows you to feel confident that your compliance needs are being met and that a strong audit trail is in place.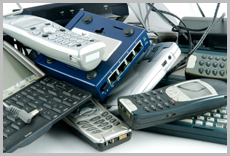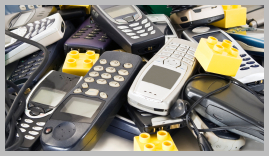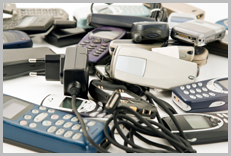 ECD WEEE Recycling Offers:-
Consultation on your E-Waste requirements
Free collection service
Pan European coverage
24 hour collection for time critical disposals

Individually Tailored reports
Fully traceable Audit trail
Dedicated account management
Numerous disposal options
We are in the in the process of becoming an Approved Authorised Treatment Facility (AATF) which allows the ability to offer a complete recycling process on site. This can include de-pollution, disassembly, shredding, recovery or preparation for disposal.
Only approved operators of AATF's can issue evidence notes for the treatment, recovery or recycling of WEEE that takes place in the UK. The evidence must relate to treatment, recovery and recycling being carried out on an approved site or to further treatment, recovery and recycling carried out at further sites.
The evidence notes will be required by Producer Compliance Schemes on behalf of producers who will need to prove that a certain amount of WEEE has been treated, recovered and recycled.
All our processes are carried out in accordance with our; Environmental Policy
Please contact ECD for further information on any of these services. For advice & consultation regarding WEEE Recycling, please contact us on +44(0)1902 722388 or email WEEE-Recycling@ecdltd.co.uk
---